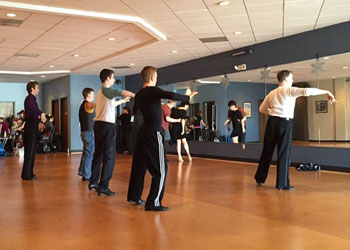 The Fort Wayne Ballroom Company works with many Universities and Colleges in the regional area. Among those, Indiana University, Purdue University, Ball State University, Valparaiso College, and Manchester University all have ballroom programs that have been coached by our instructors.
Coaching for ballroom dance provides many benefits including the most current professional training and perspective, the development of proficient individual dance technique, and competitive dance awareness.
Ballroom Dance Team Coaching can be booked for the Smooth, Rhythm, Standard, Latin, and Club Dances. Private lessons are also offered for college students wishing to seek more specialized information for their competitive dancing.