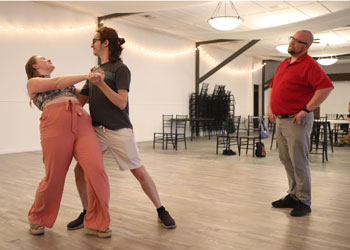 Learn a special wedding dance with a dance instructor who cares about your comfort. We want each wedding couple to feel beautiful and confident together. We'll even share poses for the bride and groom to use with their photographer.
Our instructors will guide you through the moment you walk onto the dancefloor to your final pose. Use a special song. We'll edit it and create the choreography. In addition to learning your choreography, we'll help you learn to dance to the most popular wedding dance styles so you may enjoy your reception with friends and family.
You may work together as a couple or bring in the whole wedding party to learn how to dance. Contact us with any questions you have. We look forward to helping you prepare for your wedding day!